The 10 Most Pointless US Highways
Much like the Interstate Highway System, there exist in the United States some head-scratching US Highways and alignments that make you question how and, more importantly, why, these routes continue to exist.
The US Highway System predates the Interstate Highway System by about 30 years, and as such, there were some routes that were eliminated, consolidated, or supplanted by the new Interstate System. The website US Ends tracks the changes and eliminations in US Highways quite well, and we use them a lot for research when discussing US Highways.
AASHTO even went as far to enact policy to remove all US Highways that are less than 300 miles in length unless they exist in more than one state.
Interestingly, there exist numerous routes, some on this list and some outside of it, that just enter a second state so that the policy above would not apply. Wherever there is a loophole, it will be exploited I suppose. However, some routes fit neither of these criteria, and nonetheless continue to exist. That doesn't mean each highway that does this could not be at least somewhat useful, however. US-192 for example serves an extremely busy corridor in central Florida, running between US-27 west of Walt Disney World and Melbourne, but only 74 miles long.
The criteria for what makes a US Highway pointless are mostly length, location, and connections to other US Highways or Interstates. There are some short routes that are nonetheless quite important. Another good example would be US-197, which connects US-97 to Washington via a bridge over the Columbia River.
One caveat to this list is that it lists US Highways in their totality. You could argue that US-41 is largely pointless in Wisconsin (and it is) having been replaced by the Interstate highway that it shares pavement with, or US-85 in New Mexico is pointless (and so much so that is isn't even signed) as it is entirely concurrent with I-25 for the same reason. Such do not qualify since they are nonetheless parts of the route, and US-85 acts as a bypass to I-25 in Colorado, for example, and US-41 has large important stretches as a coast to coast highway, even if its importance in Wisconsin has been lost. These highways have no stretches that are particularly important, and thus are on the lower side of length in most cases. I did think about adding US-95 to the list, and may have had it not served the Las Vegas Area.
These however, largely do not have such a point, although this is subjective as all lists of routes that could be eliminated are. With that in mind, here are the routes I find the least necessary in the US Highway System.
10) US Highway 46
US Highway 46 is...strange, to put it mildly, running east to west entirely within New Jersey, it's odd that it only has a 2 digit number, and further, that it wasn't eliminated given its length and that it does not appear in another state. Historically, it crossed the Delaware River into Portland, PA, but otherwise has entirely been within New Jersey since 1954.
It's considered part of the
George Washington Bridge
, although not signed as such, and a more fitting end would be at I-95, nonetheless in Fort Lee, NJ. So why does this route only exist within New Jersey?
The 46 designation was originally
planned to continue west to Cleveland
, replacing much of US-322, creating a New York-Cleveland highway in the process, but Pennsylvania never came on board with the plan. With Pennsylvania not wanting to route the highway through their state, Ohio never did either, and thus only a small portion of the road ever existed outside New Jersey.
US 46 westbound in Roxbury Township - By Famartin - Own work, CC BY-SA 4.0 (
Wikipedia Commons
)
Today, 46 is a short parallel route to I-80, and while it certainly has some large traffic volumes, especially in eastern New Jersey, it's still difficult for it not to be on this list, given it only runs about 75 miles. Could it not be NJ-46?
US-341 runs between Brunswick, GA and Barnesville, GA in the center of the state along a 224 mile route. It connects US-41 and I-95 and somewhat parallels I-16 to its south, although diverges at the East to serve Brunswick as opposed to Savannah. I feel like if it paralleled I-16 a bit more, there might be some use here, but as it stands, it's one of the numerous US Highways in Georgia, and by definition, could easily be eliminated and replaced with a state highway.
It manages to avoid all the major cities in Georgia, running south of Macon, serving no cities along its route greater than 20,000 people.
8) US Highway 641
Another child of US-41, this one runs 165 miles from Clifton Junction, TN north towards Marion, KY and manages, much like US-341, to not serve any major cities along the way. Were it to instead run through Paducah, KY and perhaps points north from there, it probably wouldn't be on this list, but otherwise, it doesn't really bypass anywhere, nor does it serve as a parallel route to an interstate highway. Its endpoints connect US 60 and US 64 and does meet I-40 and I-69, but that's pretty much it.
Pre-1971, it served Evansville, IN, which is now parts of US-60 and US-41.
7) US Highway 73
US-73 somewhat fits into the just-barely crosses into another state loophole, although not to the extent that some routes utilize this loophole. At 113 miles in length, it connects the Kansas City region with southeastern Nebraska. It once served all the way down to Atoka, OK, but was truncated in the 1960's to nearly its present length.

This route would probably be better served by state highways in both states, since it changes direction numerous times to run a northwesterly route from the Kansas City area. Eliminating US-73 and extending US-159 west from Falls City, NE to Dawson would add a bit of length and legitimacy to that route as well, and while US-159 is not on this list as it crosses the Missouri River, I thought about adding it since it's not a particularly long route, and doesn't really serve and major cities. I suppose 73 and 159 are interchangeable in their worthlessness, and if you were to eliminate one for the other, would make the survivor somewhat useful within Nebraska.
Were US-73 to be extended north and west to Lincoln via NE-4, NE-50 and NE-2, it would make it much more necessary of a route, and removed from this list.
6) US Highway 91
US Highway 91
has a long and storied history as one of the X1's, numbers that were originally assigned to the most important coast-to-coast north south highways, and once ran from Sweetgrass, MT to Long Beach, CA, along nearly the present-day route of
I-15
, which makes US-91 like many of the long US Highways that had large swaths replaced by the Interstate Highway System.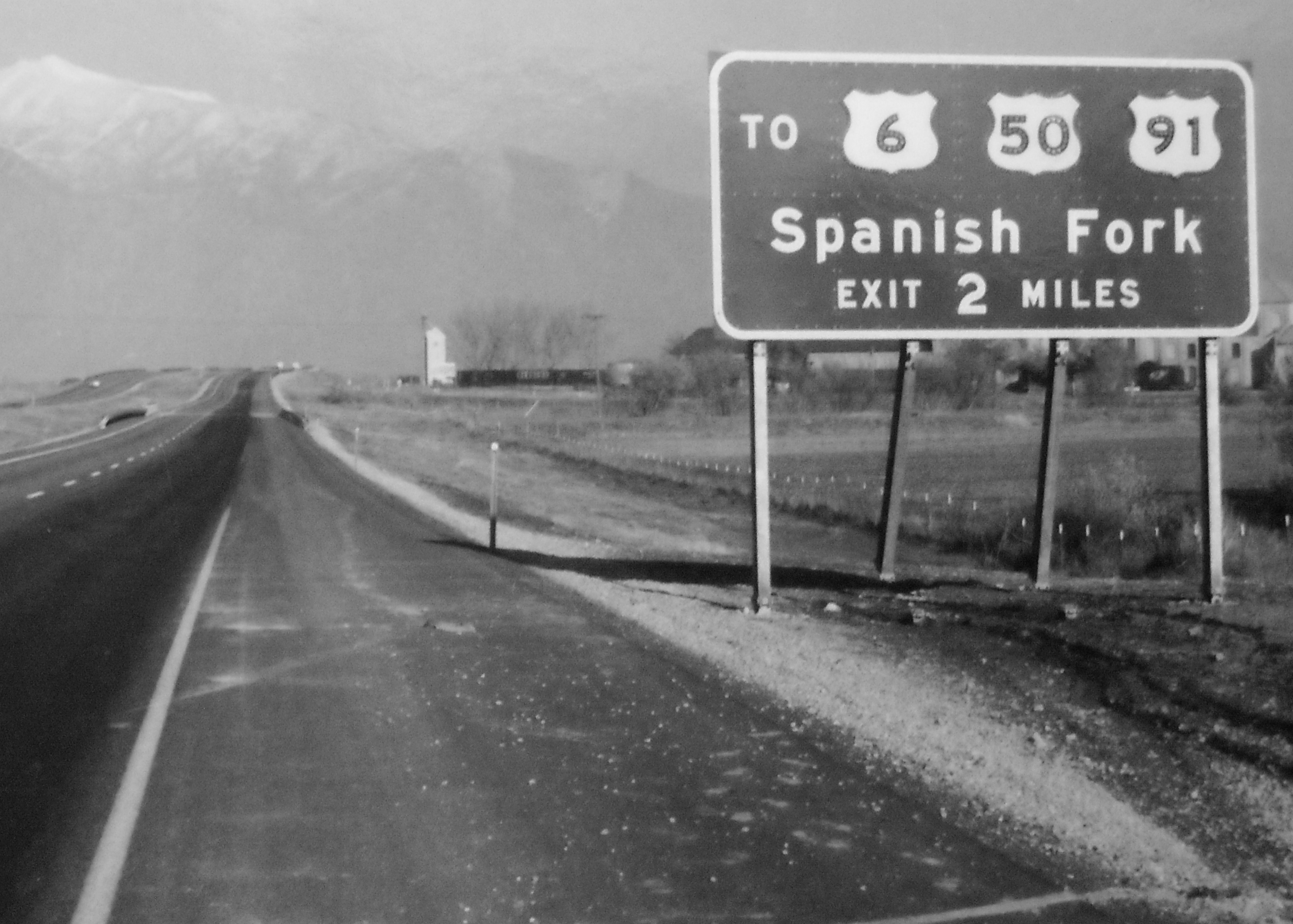 Utah DOT Tweet, "Check out this #TBT on I-15 approaching Spanish Fork, taken in the 1960's. U.S. 91 used to run through Spanish Fork along Main Street, 800 North, and S.R. 51. It was shortened to its current route (Brigham City to Idaho Falls, ID) in 1974."



But what is left of the route is pretty unremarkable, and even a bit strange given how Utah absolutely hates concurrencies, and removes them wherever possible. The present US-91 runs from Idaho Falls, ID to Brigham City, UT along a 172 mile route, but other than a 2 mile gap between US-89 and I-15 in Brigham City, it runs concurrent with US-89 to Logan, UT.
In Idaho, things are similar. Large stretches of US-91 are concurrent with I-15 and only about 120 miles of the 172 miles of highway are independent of another US Highway or Interstate. While US-91 is a small remnant of its former self, its child,
US-191
, has grown much longer over time, and now runs coast to coast (albeit along a fairly unimportant route in itself). While there are no 3 digit Interstates that are longer than their parent Interstate highways, the removal and additions to different US Highways has made several examples of child routes that are longer than their parents.
5) US Highway 371
US-371
is one of the newer US Routes that have been created, having become part of the system in 1994, and I'm not entirely sure how or why. The Wikipedia article even states, "U.S. 371 is an afterthought in the federal highway system"...
US 371 was once assigned in Minnesota along what is now MN-371, and then in 1994 was assigned to the De Queen, AR to Evelyn, LA corridor. While some US Highways get downgraded into state routes, US-371 came into existence once LA-7 and LA-177 were decommissioned in Louisiana. It was a new road in Arkansas, and was considered to be multiple state highways before the two states petitioned AASHTO to create the Bi-State Corridor as a US Route. So there you go. Despite being a single highway, it has many turns and changes in direction throughout its route, so I think it was probably better off as multiple highways instead of US-371.
4) US Highway 195
US-195
, the highway between Spokane, WA and near Lewiston, ID, is another example of a US Route that just
barely
enters another state, and does so in somewhat unique fashion, as only 1500' run to a junction with US-95 in Idaho, and has a spur that connects with it in a wye fashion:
The junction between US-95/US-195 and SPUR US-195 at the Idaho Washington border. (Google Maps)
At just 95 miles long, 195 is a slightly shorter distance between the two cities than US-95 is, but essentially acts as nothing more than a bypass of US-95, especially in its past when it connected to its parent at both ends, the north end being in Sandpoint, ID.
It was extended south in 1969, and thus now travels in two states, even if its existence in Idhao is less than a mile.
3) US Highway 266
Map image via US-Ends.com. Hey look, it's US-73 back when it was much longer!
As it stands, it serves as the gap between US-64 and US-62, and little else. That being said, while it's a bit pointless, I don't see it ever being retired, as its association with Route 66, even if the present route never came near Route 66 (they met in Oklahoma City) will probably keep this route number safe in spite of being an intrastate US highway under 300 miles in length. So my guess is you'll always be able to get your kicks on 266.
2) US Highway 211
Once connecting western Virginia with the District of Columbia,
US 211
is nearly half of its former size today at just 59 miles, making it one of the shortest US Highways, and entirely within Virginia, along a corridor between New Market and Warrenton...how is this not a state highway? There's even a VA-211 in New Market, VA ripe for extension along this route.
When the route was truncated in 1980, the AASHTO Route Committee had the same idea, "While the Committee has concurred in the partial elimination of U.S. 211 in Virginia, we are going to request the State to see if the entire segment from U.S. 11 to the intersection of U.S. 17 cannot be dropped. We further encourage the State to eliminate the U.S. 211 and Business 211 markings in Warrenton." (
AARoads
)
Nonetheless, the road has a bit of history as it was a small part of a larger
named Auto-Trail
before its ascension to a US Highway. Even so, it's 43 years late to become a Virginia State Highway in its entirety. Unlike some other US Highways on this list, it doesn't function as a bypass or alternate route of a larger route.
1) US Highway 223
Bar none, there is no less useful US Highway than US 223, which runs for just 46 miles in southeast Michigan and just barely enters Ohio via an unnecessary concurrency with its parent, US-23, where it abruptly ends in Sylvania.
US-223 in all its not-glory.
First signed in 1930, it connected its present-day western endpoint, US-127 near Somerset, MI with Toledo, OH along nearly the present-day route, but also including OH-51 between Sylvania and Toledo, making it a 59 mile route and still probably among the more pointless routes in the system. In 1987, Ohio removed US-223 beyond US-23, making the road end in Sylvania as opposed to Toledo, ending what little use the number may have had in the process.
While many longer routes were removed and replaced with state highways, this one somehow managed to keep its US Highway status by being technically within two states, even though the last six miles of the route are a concurrency through which to enter Ohio.
There is simply no reason why this could not terminate at US-23 in Ottawa Lake, MI and become M-223. The only thing that I can think of that keeps this US Highway alive is its place in the Future I-73 corridor, one of the proposed alignments would essentially parallel 223, but even so, it could just as easily parallel a Michigan state route as well.
That is, of course, if I-73 were ever going to be built in the state anyway. Even if it somehow were, I would prefer it to run along US-23 through Ann Arbor to Flint anyways.
Are there any pointless US Highways that we missed? Do you disagree with some of our thoughts? If so, let us know in the comments, and thanks as always for reading!