Why are there so many Union Stations across the United States?
If you have ever traveled by train in the United States, or even just come across the downtown of a major, or perhaps even a smaller city, chances are you have encountered a station named Union Station. From Los Angeles to Washington, D.C., there are dozens of stations with this name, some of them still in operation, some of them abandoned or repurposed. But why are they called Union Station? And what is their historical significance?
Chicago Union Station (CUS) is always extravagantly decorated, even more so during the holidays! FRRandP photo, 2021.
The name Union Station comes from the fact that these stations were built as joint facilities for multiple railroad companies that operated in the same city. Instead of having separate terminals for each railroad, which would be costly and inconvenient for passengers, the railroads agreed to share a common station where they could interchange traffic and offer connections to other lines. This way, travelers could access more destinations and services from one central location. While today, there are few examples of different railroad operators besides commuter and long-distance trains in the US, there was significant competition between smaller railroad companies, and creating a Union Station allowed passengers to transfer between one operator to another without having to leave the station.
The first station to use the name Union Station was built in Indianapolis, Indiana, in 1853. It was a simple wooden structure that served four railroads: the Madison and Indianapolis Railroad, the Terre Haute and Richmond Railroad, the Indianapolis and Bellefontaine Railroad, and the Indianapolis and Peru Railroad. The station was later replaced by a more elaborate brick building in 1888, which still stands today as a historic landmark.
From the IndyStar: In 1853: America's first "union" railway depot - an idea to be duplicated across the nation - was built in Indianapolis. It was the first time in America that all railroad trains could enter and leave a city from a single central station. In 1888: The new three-story Romanesque Revival Style station designed by Pittsburgh architect Thomas Rodd replaced the old station. This structure is known as "Grand Hall".



The popularity of Union Stations grew in the late 19th and early 20th centuries, when rail travel reached its peak in the United States. Many cities saw the need for larger and more modern facilities to accommodate the increasing number of passengers and trains. Some of the most impressive Union Stations were built during this period, showcasing architectural styles ranging from Beaux-Arts to Art Deco.
One of the most famous examples is Union Station in Washington, D.C., which opened in 1907. It was designed by architect Daniel Burnham, who also worked on the Flatiron Building in New York City and the Continental Company Trust Building in Baltimore, Maryland. Burnham drew inspiration from ancient Greece and Rome, creating a monumental structure with a grand façade, a vaulted ceiling, and marble columns. The station was commissioned by Congress and signed into law by President Teddy Roosevelt, who wanted to create a fitting gateway to the nation's capital.
Postcard of the Grand Lobby at Washington Union Station as it looked in 1915.
Another notable example is Union Station in St. Louis, Missouri, which opened in 1894. It was the largest and busiest train station in the world at the time, serving 22 railroads and over 100,000 passengers per day. The station featured a Romanesque Revival style, with a clock tower, a barrel-vaulted roof, and stained glass windows. The station also had a hotel, a restaurant, a barbershop, and a power plant, all but the latter of which still survive to this day.
While trains no longer operate at the station (they're now moved a few blocks south and east), the interior is used as a hotel, and it still is gorgeous. The exterior is an entertainment expo, which has a ferris wheel and a few other attractions.
FRRandP photo, 2022.
The heyday of Union Stations did not last long, as rail travel faced competition from automobiles and airplanes in the mid-20th century. Many stations became obsolete or underused, and some were demolished or abandoned. Some cities tried to revitalize their Union Stations by adding new features or functions, such as movie theaters, shopping malls, or museums.
For example, Union Station in Houston, TX, which opened in 1911, was closed in 1974 and later converted into an office building for Enron. After Enron's collapse in 2001, the building was acquired by the MLB's Houston Astros and incorporated into their new stadium, Minute Maid Park. The original façade and lobby of the station were preserved and restored as part of the ballpark's design.
"Union Station, 1913 - From "Houston: Where Seventeen Railroads Meet the Sea" Page 18/40 "The New Union Station Is a Part of the $5,000,000 Holdings of the Houston Belt & Terminal Company. Finest Passenger Station in the South."



Other cities have managed to keep their Union Stations as active transportation hubs, while also preserving their historical and architectural value. For example,
Chicago Union Station
opened in 1925, and is still one of the busiest train stations in the country, serving Amtrak and Metra trains. The station is also known for its Great Hall, which has a coffered ceiling, marble floors, and Corinthian columns, shown above. Fred Ash wrote
Chicago Union Station (Railroads Past and Present)
to commemorate the station.
The last trains to use the depot were in 1999, when Amtrak moved its operations to the Salt Lake Intermodal Center a few blocks west of here, where passengers can connect to FrontRunner and light rail trains. The exterior still stands as the entrance to
The Gateway
, an outdoor shopping mall which uses the space where trains once operated.
Union Station in Toronto, Ontario (which while not part of the US, the fact that there's also a Union Station there shows how connected the US and Canadian networks were, and remain), opened in 1927 after years of delays due to World War I shortages, is still Canada's busiest transportation facility, serving over 300000 passengers per day. The station is undergoing a major renovation project that aims to improve its capacity, accessibility, and amenities, while also restoring its heritage features.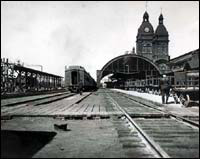 An 1872 track level view of Toronto's Union Station.
Union Stations are more than just places to catch a train. They are symbols of a time when railroads connected people and places across a vast continent. They are monuments of civic pride and architectural beauty. They are witnesses of history and change. They are part of our collective memory and identity. If you ever have a chance to visit a Union Station, take a moment to appreciate its story and significance. You might discover something new and fascinating about the city and the country you are in!
Thanks as always for reading!