Five of the World's Longest Abandoned Railways
There are numerous online resources for almost anything you could want to know about railroad history. That being said, there are still some questions that I've been unable to find a definitive answer to, and I'm not alone.
For example, it's quite easy to find information on the longest train trip in the world, the
Trans-Siberian Express.
But what is the longest stretch of abandoned railroad right of way in the world?
The answer is hard to come by, because of several reasons, mostly in how one defines "abandoned". This even comes into play on this list, as most lines are abandoned piecemeal, and some stretches can reactivate over time. Thus I'm not sure if I'll ever have a definitive answer to that question, but in my time mapping the world, I've come across five lines (and one incomplete line) that are among the world's longest stretch of abandoned right of way.
It would not surprise me to find a longer stretch of abandoned right of way in the world, and it would surprise me even less to find one of length that would qualify it for this list, so if you know of one, please let me know in the comments!

And without further delay, here are five of the longest abandoned railroad lines in the world.
5) Mexico North Western Railway - Juárez to La Junta, Chihuahua, Mexico - 351 Miles
The
Mexico North Western Railway
was originally known as the Rio Grande, Sierra Madre & Pacific Railway, and was built by Canadian investors to tap into the mining interests of Northern Mexico. A subsidiary operation, the El Paso & Southwestern Railroad, connected it to El Paso, and the rest of the US Rail Network.
It was built in the latter part of the 19th century, and continued in operation until 1954.
The abandonment begins in Juarez in between the north and south lanes of Eje Vial Juan Gabriel, and continues south into Mexico's mountains, down to La Junta, 350 miles south.
4) Hejaz Railway - Medina, Saudi Arabia to Abiad, Jordan - 476 Miles
The original narrow gauge
Hejaz Railway
ran between Damascus and Medina, but only lasted twelve years, beginning in 1908 and ending service in 1920, with its history extremely intertwined in World War I and the fall of the Ottoman Empire.
Its desert climate preserved much of the unused right of way, and many examples of ruins of stations and steam engines still can be found today. A much smaller section of abandoned right of way can be found running from Beit She'an, Israel to Tal Shihab, Syria.
The line was conceived
to connect Constantinople (
which was Istanbul
) with the Islamic holy cities of Medina, and Mecca to the south, which are today in Turkey and Saudi Arabia, respectively, but in the time of Hejaz Railway were all part of the Ottoman Empire.
Jordanian mining interests have kept the right of way north of Al-Abiad
still in service
, and both Saudi Arabia and Jordan have expressed interest in reopening the line, although most likely with a different alignment.
3) Newfoundland Railway Main Line - St. John's to Port aux Basques, Newfoundland, Canada - 550 Miles
I believe
the Newfoundland Railway
is among the most interesting abandoned railroad operations in North America. Its sheer length, combined with the fact that it was nonetheless a narrow gauge line, and its remoteness on the Island of Newfoundland should have contributed to its much earlier abandonment. Instead, it lasted until 1988.
The line began service in 1882, before the entire main line had been completed. By 1898, it was possible to
take a passenger train across the island
. For many, the ride between St Johns and Port Aux Basques was the only connection Newfoundlanders had to mainland Canada, as from Port Aux Basques, one could take a ferry to North Sydney, Nova Scotia.
The line became under CN control in 1949, which kept the line running despite its inability to make a profit, given its narrow gauge track making freight harder to move, and a lack of passenger traffic. Trucking and buses would over time take over the passenger and freight business, like the story of many abandoned lines in North America. The branch lines on the island would close in 1984, with the main line following four years later.
The Newfoundland Railway had a unique alignment that crossed over itself in a loop near Trinity, NL, named the
Trinity Loop
, which later became a theme park and historic site.
2) Central Australia Railway - Alice Springs to Copley - 600 Miles
Australia's legendary "
Ghan
" Train, still in service, originally used a right of way between Alice Springs and Copley, Australia, before the line was moved farther west, in some cases by 200 kilometers.
Central Australia Railway's abandonment in Yellow. A mine uses a railway along the former ROW just south of Parachilna.
The line began service in 1929 in the almost completely uninhabited Australian Outback. The new alignment began service in 1980, allowing the former route to be abandoned.
As noted before, the right of way is in use at Parachilna. This is where the old alignments of the road get slightly confusing, as there was both a standard gauge and narrow gauge alignment. South of there, they diverged a bit. Another 80 miles is abandoned between Quorn to Parachilna, while a heritage railway, the Pichi Richi Railway, is in service from Port Augusta to Quorn.
At 600 Miles, this is the longest continuous stretch of
abandoned right of way I've discovered
in the entire world. And yet it pales in comparison to the last line on the list.
1) Milwaukee Road Pacific Extension - Renton, WA to Terry, MT - Combined Abandonments: 1010 Miles
Milwaukee Road's Pacific Extension
might very well be the most famous, or infamous, abandoned right of way in the United States, and it is undoubtedly the longest, although stretches of the railroad are still in use. It was one of the first lines I traced, seeing it on
abandonedrails.com
, and immediately being curious about it.
Map of the Milwaukee Road's Electrified Pacific Extension via: TrainWeb.org


Aside from its length, the road traveled some of the most beautiful terrain in this country, and much of the disused right of way is now rail trails, such as the
Route of the Hiawatha
, or the trail formerly known as the
John Wayne Pioneer Trail
.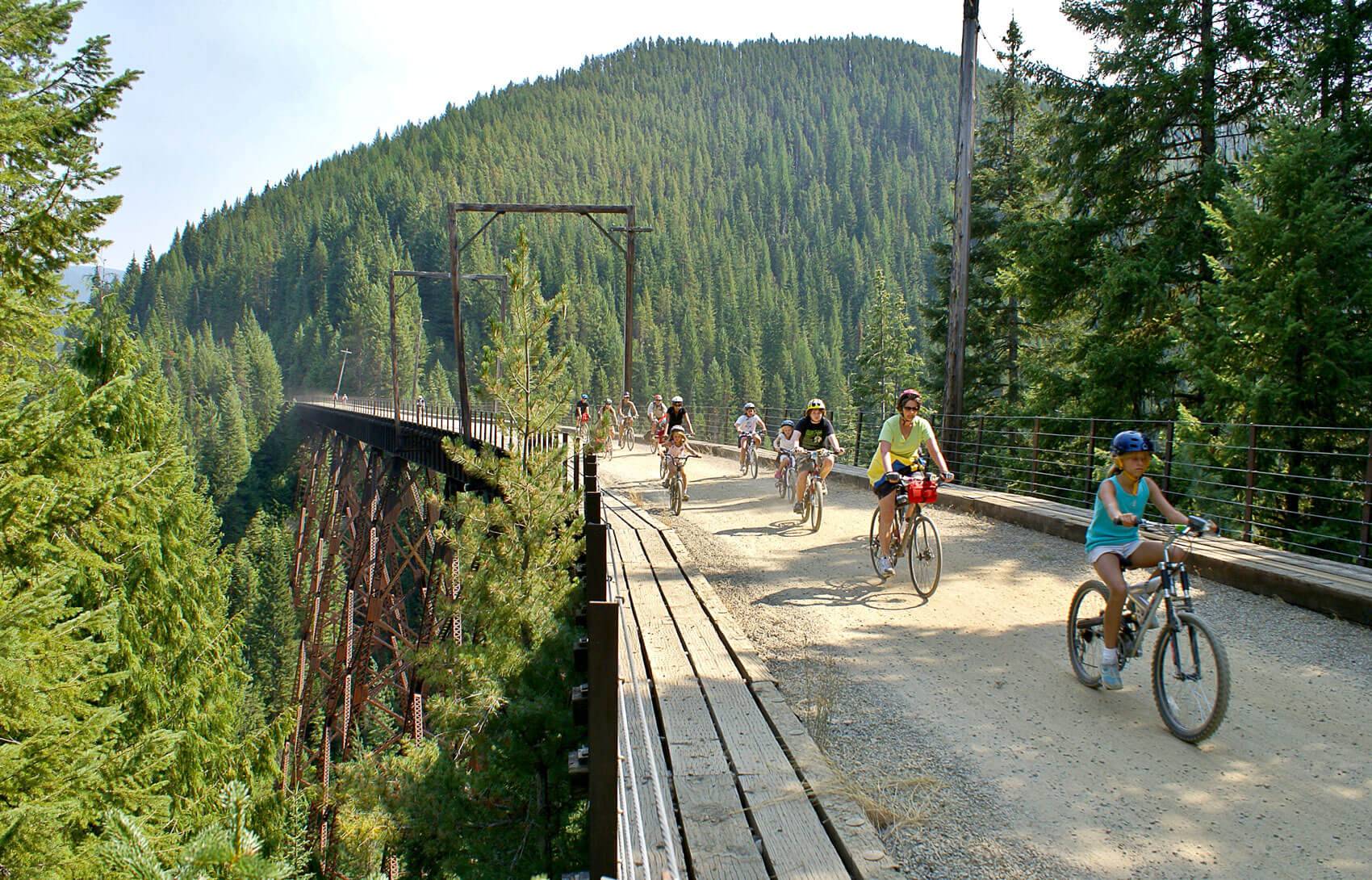 A bridge on the Route of the Hiawatha Bike Trail Image: Visit Idaho
The story of the
Pacific Extension
began in 1901 when the Milwaukee Road management felt an extension to the Pacific Northwest was the only way to remain competitive with its competitors, such as the Northern Pacific and the Chicago & Northwestern. Despite a cost in the millions (billions today), and only an 18 mile savings from its nearest competitor, the project was completed in 1909.
Many celebrate the building of
10 miles of track in a single day by the Central Pacific
as an engineering marvel, but building 2,300 miles of track by the Milwaukee across two mountain ranges in only three years has to be recognized as well. The route was electrified in full by 1916, which allowed for operation even in the harsh Montana winters, where temperatures as low as -40 impacted steam engines along the route.
Two Skytop Lounges in their second Milwaukee Road paint scheme. These cars were part of the Twin Cities Hiawatha equipment pool. Image: Jim Boyd
The Pacific Extension left the Milwaukee Road in a debt it was unable to pay, even when freight traffic was plentiful. It was simply a case of too many competing railroads, many of whom were merging to stay alive. By 1980, the Milwaukee would go into bankruptcy, where its assets were acquired by the Soo Line.
Other railroads would buy sections of the Pacific extension, but the vast majority was abandoned. I've identified six of these corridors that made up the Pacific Extension:

i) Terry to Miles City, MT - 39 Miles
ii) Miles City to Butte, MT - 395 Miles (the longest stretch of abandoned right of way in the US).
iii) Silver Bow to Rocker, MT - 74 Miles
iv) Bearmouth, MT to Riverdale, ID - 213 Miles
v) Plummer, ID to Warden, WA - 134 Miles
vi) Smyrna to Renton, WA - 155 Miles
For more on the Milwaukee Road, I suggest reading The Milwaukee Road to the Pacific Northwest: Photography of John W. Barriger III via
eBay
and
Amazon
. (Clicking on those links may earn this site a commission)
Finally, it's also worth mentioning the
Salekhard-Igarka Railway
, also known as
Stalin's "Death" Railway
, which was never built in its entirety, and most stretches of the road never operated. While the Soviet Union was heavily industrializing in the 1930's, it used prison labor in construction of a railway.
The road was graded
, some track was built, but never completed, between Korotchayevo to Igarka, a distance of 348 miles, while west of Korotchayevo, the line is still in service.
I hope you enjoyed today's blog, and let me know if there's any other long stretches of abandoned right of way you're aware of. Thanks as always for reading!