How To Get a Job in the Railroad Industry
While I greatly enjoy writing Forgotten Railways, Roads & Places, as well as making my
abandoned railroad maps
, it's not my day job. Not yet at least. Since 2019, I've gotten to the point where I can make a little side money from this blog, but at the end of the day, it's a labor of love.
Without going into my background too much, I am employed in the railroad industry, and I know very well that I'm not the only one who dreamed of working for one of the Class I's early in their life or career. While there is no one path to any goal in life, I figured I would share my story of how I got my current position, and maybe you can learn a thing or two from my experience.
I first got the chance at this dream way back in 2010; being hired as a Freight Conductor. However, it became apparent very early in my career that it wasn't for me. (To those who are conductors, engineers, etc., my hat is off to you.) After graduating college, and working in the traffic and transportation industries for several years, I accepted employment at a railroad in a non-operations setting, so I can say I know the hiring process for both operations and non-operations positions.
The first thing I would note about the railroad, is that at least when it comes to securing employment, it is just like any other industry. You search for jobs, apply to some that you believe you're qualified for, submit a resume (possibly a cover letter as well), and play the waiting game. This is true of any open position. It may also months or years of daily job searches on Indeed, each of the Class I Railroad websites, local short line websites, and the
Railroad Retirement Board Job Vacancy List
.
Which brings me to my first tip: networking. Using
LinkedIn
or your own research, finding a connection you know at the company can significantly increase your chances at securing an interview.
That said, particularly for union positions, a bargaining agreement or HR policy may require the position to be interviewed for by a random lottery. In situations like this, your odds are tied to how many other qualified candidates applied for the position, meaning even experienced candidates may be left without an interview. For my current position, I applied, interviewed, received and offer, and after undergoing a background check, began work just as you would at any company.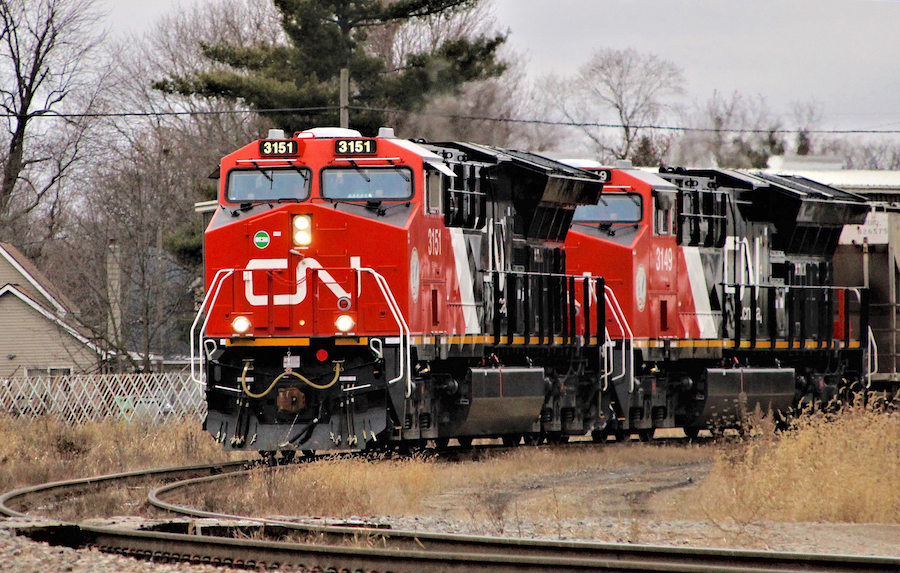 CN #3151 at Durand, MI on 28 December 2018 (Ralph Watkins photo) Image via thedieselshop.us
I should note that most operations railroad jobs (conductors, engineers, etc.) that are listed on jobs pages like
Indeed
, usually have hundreds of people applying for only a few open positions. In this case, the railroad may invite qualified candidates to a hiring session.
In my earliest experience, I attended two of these sessions, each of which was several hours long, and had about 75 people each.
Image: Doug Wertman: Flickr
Remember, the railroad is probably hiring at most 10-20 people, and they've invited 4-5 times that many. Their goal is to weed out as many people as possible over the shortest amount of time. The presentation will consist of many realities of working in operations: long hours, extra board shifts, working holidays, weekends, and in cold/snow/heat/rain. A few people got up and left during a break.
This is a maintenance of way crew de-icing switches in the winter, not something one thinks about, but is essential for railroad operations. Image: Norfolk Southern
Next came a written battery test. A lot of mechanical and electrical questions, and simple logic puzzles. I didn't have much trouble with this, but I could see some questions being tricky if they weren't read properly.
Once the tests were graded, about 25 made it onto a full interview. As far as what questions were asked, again these were mostly questions that would be asked at any company, with more of a tilt towards safety and reliability. After two long, grueling weeks of waiting, I heard back and learned I was hired, with a date set to go to Conductor Training.
Image: Kevin Burkholder
At this point I should remind you that being a conductor was not for me, and may or may not be for you either. You'll learn quickly enough if you go down the path if it is for you, however. As large as railroads are, there are opportunities for everyone, from a janitor to an MBA graduate.
The most important part about getting a job on the railroad is simple persistence, which is true of any goal you may have. It took me eight years to work for a railroad again. Not everyone is successful on their first go around.
It may take several attempts to find where you fit in an organization, but if it's something you really see yourself doing, keep applying for jobs, send cover letters, network, and after a certain period of time, your chance will come. The railroad is a great place to work, although like every industry, it has its challenges, some that cannot fully be appreciated by anyone who doesn't work for the industry.
Good luck to any of you looking for jobs out there, and thanks for reading!