The Cincinnati Bluffton & Chicago Railroad
The Cincinnati Bluffton and Chicago ran between Huntington & Portland, IN between 1903-1917. (Right of Way). It was to run between its namesake cities, but it was never successful, like many short lines it suffered from a lack of investment and financing. Outside of a couple small spur tracks serving gravel pits, it could not create any freight traffic for itself to survive.
The original route was to run south of Portland, IN to Union City, IN on the Ohio Border. Had this connection been established, it would have been able to connect to Cincinnati, OH via the Cincinnati Hamilton & Dayton Railroad. At Huntington, IN, it did connect to Chicago through the now-abandoned Erie Railroad. The line opened in segments: Bluffton to Pennville was opened in 1903, from Pennville to Portland in 1904, and from Bluffton to Huntington in 1908.
The route largely paralleled present-day US-224 between Huntington and Markle, IN-116 between Markle and Bluffton, IN-1 between Bluffton and Pennville, and then diverged southeast from Pennville to connect to Portland, IN.
Construction began on the Union City-Portland segment but would not be completed as a result of the financial condition of the line.
Cincinnati Bluffton & Chicago Map, 1907. The Portland-Union City segment was mapped but never completed. (Multimodalways Archives)
1912 saw the road placed in the hands of a receiver, and a proposal to take over this company with a new, electric interurban operation that would be known as the Huntington Richmond and Hamilton Railway, which would also complete the road to Union City, as originally proposed, and extend south from there to Richmond, IN. This obviously never materialized.
"Mary Gregg (1891-1981), seen here with Dennis, Wick, and Lawson, worked at the Cincinnati, Bluffton, and Chicago Railroad shortline railroad office before she married Frederick Hoover in 1914. They pose in front of a Barber car made by the Barber Car Company The 52-mile C. B. & C. Railroad, in operation from 1903 to 1917, never made it to Cincinnati or Chicago, but traveled from Huntington to Portland in Indiana, stopping at Balbec, Pennville, and Portland in Jay County. Financial problems led to the railroad's decline and it was abandoned in 1917 and its rails removed." (The Indiana Album)
Financial outlooks grew even worse in 1913, highlighted by a crash that destroyed a bridge in Markle, IN and killed the engineer. Bridgehunter has the location for this now lost bridge over the Wabash River. This accident would replace steam power on the line with gas.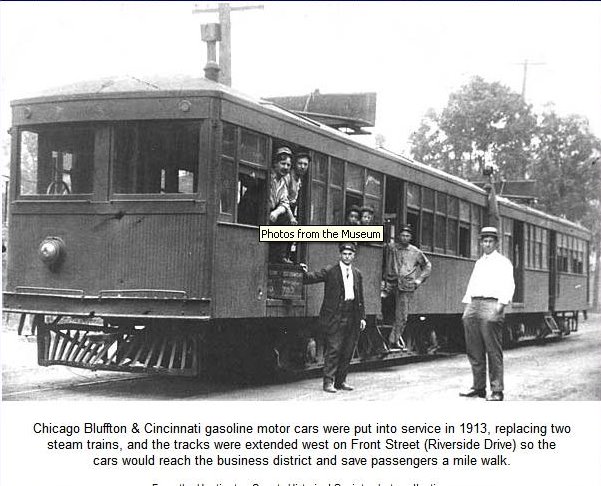 In 1917, the railroad ceased operations, and the rails were torn up and used in the War effort, as was common for abandoned railroads in both World Wars.
Thanks as always for reading!